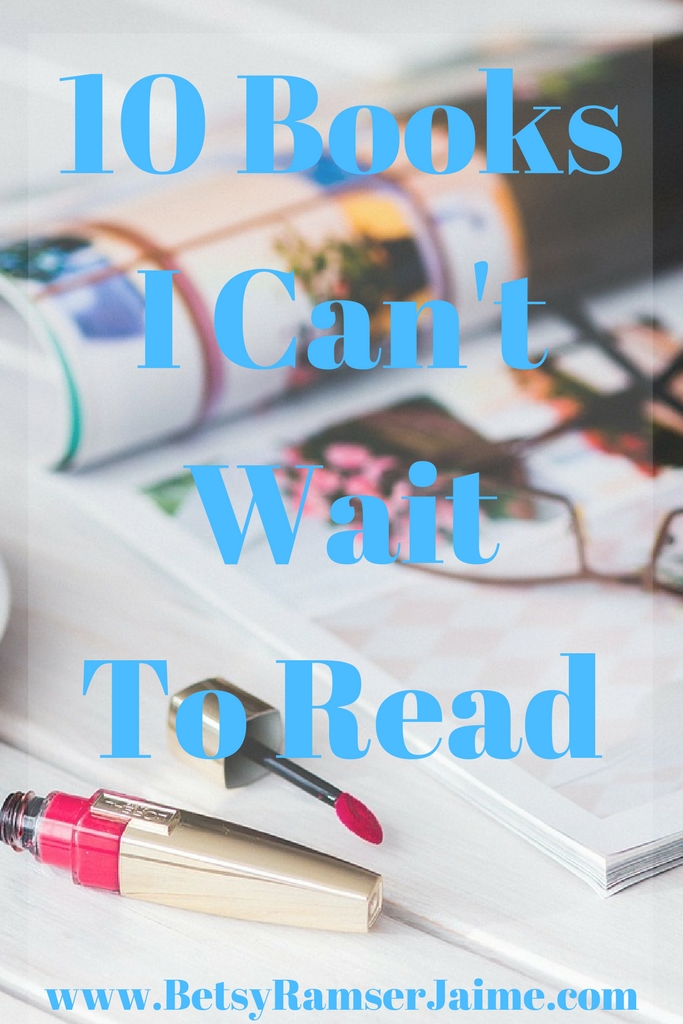 This post contains affiliate links for your convenience. Click here to read my full disclosure policy.
10 Books I Can't Wait To Read
Right now I have a mile high stack of library books which is equal parts daunting and exciting. However, I thought I'd narrow it down to the Top 10 Books I Can't Wait to Read over the next two months. A few of these I have either started or have been wanting to read for quite a while but just haven't finished.
Non-Fiction:
This one is probably the book that I've looked forward to the most in 2017. I absolutely love Emily Ley and her last book Grace Not Perfection is a book that I often find myself returning to again and again. Like me, Emily is highly organized and an obsessive planner so she's my kind of girl. If you're a girl who is feeling overwhelmed and wants to simplify your life, I would highly recommend her books.
Pages: 224
Here is a short summary from the inside cover of the book, "According to the Japanese, everyone has an Ikigai- a reason for living. And according to the residents of the Japanese village with the world's longest-living people, finding it is the key to a happier and longer life. Having a strong sense of ikigai- the place where passion, mission, vocation, and profession intersect- means that each day is infused with meaning"
Pages: 185
I have loved all of Brendon's previous books so when I found out that he had a new book out, I knew that I needed to read it. Brendon is an expert in the fields of productivity and performance and is able to distill his findings into actionable and easy to read guides.
According to the inside cover of the book, "Twenty years ago, Brendon Burchard became obsessed with answering 3 questions:
Why do some individuals and teams succeed more quickly than others and sustain that success over the long term?
Of those who pull it off, why are some miserable and others consistently happy on their journey?
What motivates people to reach for higher levels of success in the first place, and what practices help them improve the most?
After extensive research and a decade as the world's leading high performance coach, Burchard found the answers."
Pages: 347
Dorie is a great communicator and you can often find her writing in the Harvard Business Review. As the book says, "It's no secret that the world of work has changed, and we're shifting toward an ever more entrepreneurial, self-reliant, work from wherever you are economy.
This is another one that I've been really looking forward to this year and I imagine that once I finish it there will be a forthcoming blog post with some key points and my overall thoughts.
Pages: 239
I started reading this back in September and was able to read about half of it before I was deluged with a mountain of library books and had to hit pause. It's sooo good and I can't wait to dive back in and finish it. If you are looking for some faith based encouragement or if you're feeling a little off track and need a guide to help you course correct, this is a perfect book for you.
Pages: 315
This is another one that I started earlier this year when I was on a plane ride. However, with the distractions on the plane I wasn't able to make it past the first few chapters. According to one of the reviewers this is the 'Purpose driven life for Millennials' so I can't wait to pick it up again and let you all know what I think.
Pages: 166
Fiction:
So, funny story… I found out that we would be reading this for my book club so Josh (my husband) and I decided to check out the movie from the library (the 1974 version). The disk must have been pretty scratched because needless to say…with all of the skipped scenes..we watched the 2 hour and 8 minute long movie in less than 30 minutes. Most importantly, we completely missed the murder. Needless to say, I'm excited to read the book to put all of the missing pieces together.
If you're not familiar with the story line the back of the book describes, "Just after midnight, the famous Orient Express is stopped in its tracks by a snowdrift. By morning, the millionaire, Samuel Edward Ratchett lies dead in his compartment, stabbed a dozen times, his door locked from the inside. One of his fellow passengers must be the murderer. Isolated by the storm, detective Hercule Poirot must find the killer among a dozen of the dead man's enemies, before the murderer decides to strike again…"
Pages: 315
If you're not familiar with this series, I would highly recommend it. However, I would also suggest starting with book 1, 'Crazy Rich Asians.' There are soooo many characters and looking back I  wish that I had kept a running list of each of the main characters. Since there are so many extended family members it can often be difficult to keep track of everyone.
Each of his books is highly entertaining and they're perfect for anyone who has an interest in Asian culture. The books are primarily set in Singapore and they are currently making the first book into a movie. One of my favorite actors, Harry Shum Jr. will be playing the infamous, Charlie Wu!
Pages: 398
I have to admit that I 100% picked up this book because I loved the cover. I was also in the mood for a good travel novel. All I know is that it's about an actress who heads to Paris to get away from her complicated life.
Once I read it, I'll make sure to share my final thoughts.
Pages: 270
This is Reay's most recent novel and the only one I have not yet read. I've loved her previous books so I can't wait to compare this one to her first few. As you can imagine from the title, she writes modern day Austen stories that are fun and light. However, they also always seem to have applicable life lessons as well. This is the summary that I found on Amazon:
"Mary Davies finds safety in her ordered and productive life. Working as an engineer, she genuinely enjoys her job and her colleagues—particularly a certain adorable and intelligent consultant. But something is missing. When Mary's estranged childhood friend, Isabel Dwyer offers her a two-week stay in a gorgeous manor house in England, she reluctantly agrees in hopes that the holiday will shake up her quiet life in just the right ways.
But Mary gets more than she bargained for when Isabel loses her memory and fully believes she lives in Jane Austen's Bath. While Isabel rests and delights in the leisure of a Regency lady, attended by other costume-clad guests, Mary uncovers startling truths about their shared past, who Isabel was, who she seems to be, and the man who now stands between them."
Pages: 320
Well friends, I think that about sums it up. I guess this means I have quite a bit of reading to do before the end of the year. As I read, I'll continue to share updates and thoughts on Instagram. Feel free to follow along with me @betsyramserjaime
10 Books I Can't Wait To Read