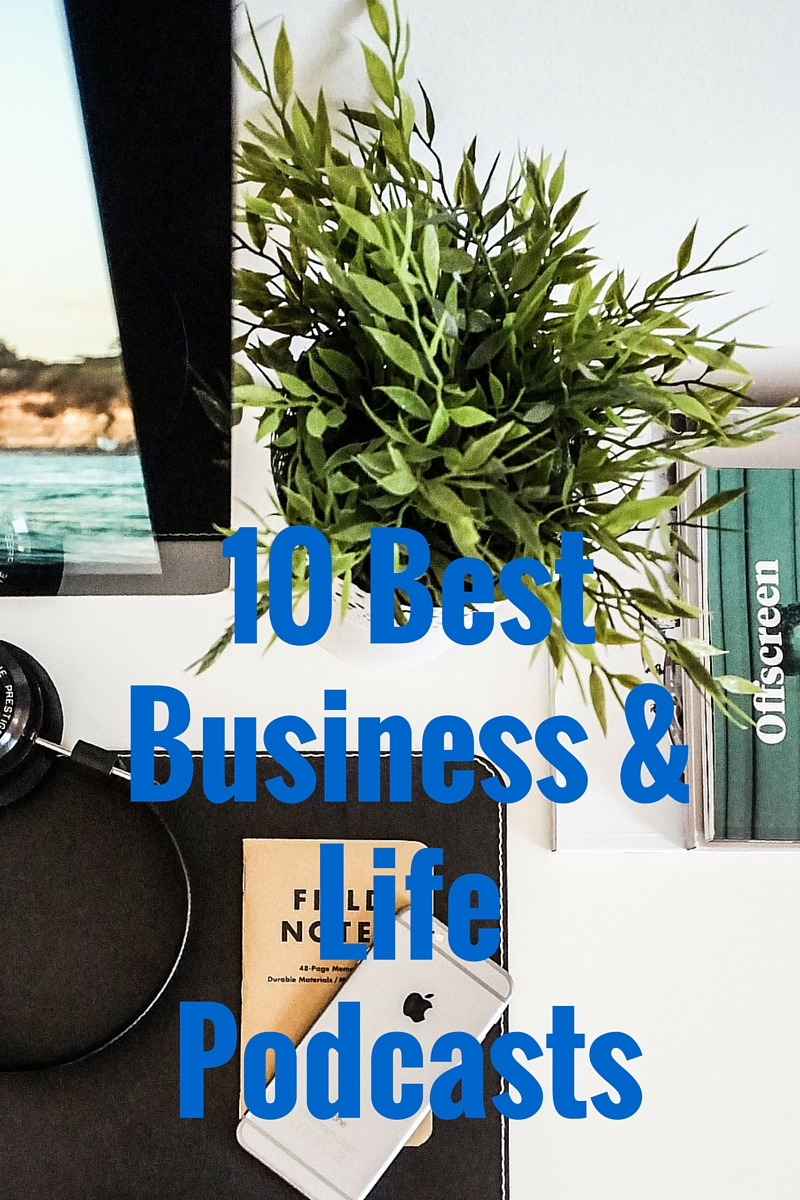 Over the past few years, podcasts have quickly become one of my favorite ways to grow and learn on a daily basis.
The Lively Show with Jess Lively
I had to list the Lively Show because it's one of the only podcasts that I've been listening to since the very first episode. It was also the first podcast that I really listened to every single week. I had been following Jess Lively for a few years before she started the podcast so naturally, I knew that I had to check it out.
Main Topics: Values, Business, Life, living with intention
My favorite Episodes:
Episode #100 with Elizabeth Gilbert on Curiosity, Epic Self-Compassion & Creativity
Episode #133 with Barrett Brooks of Fizzle
 The School Of Greatness with Lewis Howes
According to Lewis, the goal of his podcast is to share inspiring stories from the most brilliant business minds, world class athletes and influential celebrities on the planet; to help you find out what makes great people great.
One of the things that I most love about Lewis's podcast is that his episodes come in a variety of lengths. For example, if you don't have a lot of time, he has some great podcasts that are under 10 minutes while others are over an hour.
Main Topics: Business, Productivity, Getting the most out of life
My Favorite Episodes:
Episode #327 Stacy London on Styling the Life of Your Dreams
Episode #280 Be Generous (only 7 minutes long)
The Influence Podcast
The Influence Network is a great online community for Christian women and I have been a member for almost two years now. They offer classes, resources, and are even starting to do in person meet ups. If you are a creative, blogger, business owner, or just looking to find great online community, then I would definitely recommend checking out the Influence Network.
Main Topics: Blogging, Faith
My Favorite Episodes:
Episode #42 with Alli Worthington author of Breaking Busy
Episode #26 with Whitney English creator of Day Designer
The Suitcase Entrepreneur with Natalie Sisson
This is one of the first podcasts that I ever listened to. If you are interested in starting an online business, travel, or location independence then Natalie is certainly someone that you will want to learn from. She runs an online business and has epic adventures all over the world. Plus, she has a New Zealand accent which makes it even more fun to listen to her podcasts.
Main Topics: Location independence, entrepreneurship, online business
My Favorite Episodes:
Episode #266 Focus on One Thing To Transform Your Business with Jay Papasan
Episode #263 3 Steps to Positively Reframe Your Mindset
The Big Leap Show
This is one of my most recent podcast discoveries. I love the host, Kathlyn Hart and this has quickly become a podcast that I really look forward to each week. This podcast shares honest stories from big dreaming women who found the courage to face their fears and take a leap of faith to start a business of their own.
Main Topics: Women in Entrepreneurship
My Favorite Episodes:
Episode #10 with Natalie Bacon of the Finance Girl
Episode #11 Putting in the Time to Learn Your Craft with Brittney Castro
 The Tim Ferriss Show
I should start by saying that if you are short on time…then this is not the podcast for you. Most of Tim's episodes are well over an hour so often I break them up and listen to a single episode throughout the day or week. If you haven't heard of Tim Ferriss he is the author of the well-known and sometimes controversial book 'The Four Hour Workweek." He is the king of experimentation and is an author, entrepreneur, and investor.
He is incredibly funny and interviews a really broad range of guests on the show which is great because I find that I'm able to learn from a really eclectic group of people.
Main Topics: Entrepreneurship, Business, Productivity
My Favorite Episodes:
How Seth Godin Manages His life – Rules, Principles, and Obsessions
The Man Who Studied 1,000 Deaths to Learn How To Live
Achieve Your Goals with Hal Elrod
First things first…if you haven't read Hal's book 'The Miracle Morning' you need to head on over to Amazon and pick up a copy. One thing that differentiates Hal's podcast is that his episodes are incredibly actionable. According to Hal, his podcast is dedicated to empowering and equipping you with practical advice and strategies to achieve your goals and dreams.
Main Topics: Entrepreneurship, Business, Productivity
My Favorite Episodes:
Will it Fly? An interview with Pat Flynn
The Art of Work. An interview with Jeff Goins
Beyond the To Do List

As you've probably guessed by now, I love listening to podcasts. But beyond that, my favorite podcast topic is productivity so if productivity is a topic that you either love or massively struggle with then this is one I would highly recommend. Eric interviews a lot of guests that I'm already familiar with and love. The reason that I love learning about productivity is because it really goes back to the idea of living a meaningful life and that is exactly what this podcast is all about.
Main Topics: Productivity
My Favorite Episodes:
Episode #104 Having it All with Laura Vanderkam on Success in Career, Family, and Self-Investment
Episode #64 Breaks with Claire Diaz Ortiz Tips on Success and Staying Sane
Make It Happen

This is my most recent addition to my podcast arsenal so I've only listened to a few episodes so far but I'm excited to listen to more. Jen Carrington is the voice behind the podcast and she is a Content Coach and a Creative Mentor. According to Jen, Make It Happen is a podcast for curious, big-hearted, purpose-driven creatives. This podcast is here to share stories, insights, and conversations to encourage and empower you to make things happen for your creative life and business.
Main Topics: Creativity, Content, Entrepreneurship
My Favorite Episodes:
Episode #10.5 Embracing A Season of Enough in Your Creative Life
Episode #1.5 Building an Effective & Fulfilling Routine as a Creative
Entrepreneur on Fire

If you are looking for an actionable podcast specifically focused on Entrepreneurship then this is the podcast for you. John Lee Dumas is a great host and he has new episodes 7 days a week so you will never find yourself with a shortage of great content to listen to. He has had a really broad range of guests on his show including prominent names such as, Tony Robbins and Seth Godin.
Main Topics: Entrepreneurship, Tactical tips & advice
My Favorite Episodes:
Episode #1284 How to Accomplish Your Business & Life Dreams
Episode #1275 How to Disengage from Technology and Spend Quality Time Playing, Laughing, and Exploring Nature
Tip: I find that podcasts are a great way to find new books and to get a brief overview of books that you might not have time to read. Often, when authors are interviewed they will share the key message and ideas from the book.
What about you? What are some of your favorite podcasts?