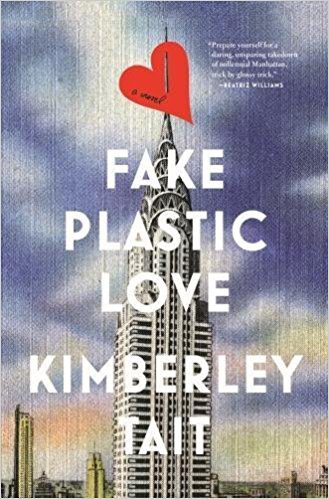 Fake Plastic Love
I've always loved a good novel, but what I love even more is reading a novel that teaches me something about my own life. When we look through the lens of another person, we see things that we might not always recognize at first.
The story Fake Plastic Love follows the complicated friendship of two twenty something girls from their university days back at Dartmouth to the concrete jungle of Manhattan. One of the girls, M, pursues an unfulfilling career in investment banking, while the other, Belle, becomes of the first fashion and lifestyle bloggers. They continue to weave in and out of each other's lives for the duration of their twenties while overcoming obstacles and both doing their best to better understand who they are and what they want to be doing with their lives.
I loved how the story Fake Plastic Love itself is organized. The book begins with the main character, M, on her wedding day.  While we have very few answers…it's clear that two of the novel's most prominent characters will not be in attendance. As the reader…it took all of my willpower not to flip to the last few pages and find out what was going to happen. But alas, I waited patiently. After the brief shot of the wedding day, the majority of the book follows the post college journey of M and Belle and their respective lives.
I was surprised by the number of interesting quotes that were scattered throughout the novel. Particularly in the second half of the book. I also found it interesting that  so many of the ideas could be applied to multiple life areas. For example, career, relationships, personal growth, etc.
I have included a few of my favorites below. While I would encourage you to read the book, for now, take a look though the quotes below. Then, see what resonates with you. Could you apply any of these quotes or ideas to your own life?
Favorite Quotes From the Book:
"I think the trick is to pick one thing and really commit to it"
"Who we align ourselves with-who choose us to be on their team and who we choose to be on ours-is everything in this life"
"A strange thing happens when someone who you don't respect declares that something is never going to happen in your life-that it just isn't in the cards for you-with authoritative certainty. Something, and I'm not sure what, emptied out of me at that moment"
"My grandfather always said that it all goes by in the blink of an eye. He explained. This life, I mean. He told me you should do whatever you can, whatever is in your power, to make that blink the happiest one you can. That you should never wait for or postpone your happiness."
"If I learned anything from Jeremy and his story, it's that we make a conscious choice about the things we latch ourselves onto in life. We get to decide who and what is worthy of our devotion. Sometimes, we make the wrong call, and lose ourselves in illusions about the undeserving."
"But isn't it funny where life can take you when you manage to convince yourself of the totally wrong things? Coming to London, being in London, being far away was such a nice idea in my head. I had the same idea about marrying Chase. Often I think I like the idea of things so much more than the things themselves, which is why I always feel so disappointed."
Final Thoughts + Takeaways:
Regardless of what life throws our way, we are ultimately responsible for how we respond and move forward.
Change is necessary. The people who are a big part of your life, may not be in your life forever and that's ok.
Don't get so caught up in the fantasy of the 'perfect life' that you miss out on the great life that is right in front of you.
Fake Plastic Love Details:
Type of Book: Novel
Author: Kimberley Tait
This is a good choice if you like: The Great Gatsby
Set the Scene: New York City (modern day)
Book Length: 335 pages
If you're a fellow book lover, make sure to check out some of my other reviews including:
Also, to see what I'm reading right now, head on over to Instagram, @betsyramserjaime