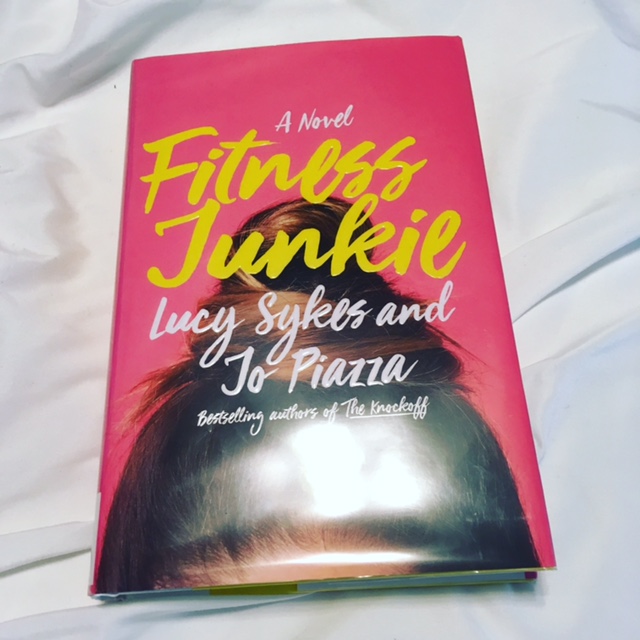 Fitness Junkie Book:
What can I say…I started reading this book and before I knew it I looked down and I was already on page 139. It's that good. For starters, the book is written by Lucy Sykes and Jo Piazza who previously worked together on the novel, 'Knockoff.' If you haven't read that one, go check it out too. Anyways, the novel follows the life of main character, Janey Sweet. Janey has the ideal southern pedigree and an academic career including Princeton and the Wharton school at Penn.
After finishing business school, she embarks on an entrepreneurial adventure with her childhood bff, running the business side of his fledgling wedding dress business. She's able to successfully grow the business but in turn finds herself overworked, overweight, and recently divorced. With this turn of events comes the ultimatum from her business partner….she must take a few months off from work to lose 30 pounds…or she'll be out of a job. Crazy, right?
With her newly open schedule, Janey goes all out and tries out every imaginable exercise class, trend, and health craze. In the process, she meets an assortment of interesting characters including a workout guru named, Sara Strong, a twenty something hipster dad named, Jacob, all while bringing along her best girlfriend, CJ along for the ride.
Fitness Junkie Book Details:
Type of Book: Novel
Authors: Lucy Sykes & Jo Piazza
This is a good choice if you like: Knockout (same authors), Startup, The Shopaholic series
Set the Scene: New York City (modern day)
Book Length: 288 pages
Life Lessons/Overall Themes:
Weight/Health Obsessions: A big part of this book surrounds Janey's struggles with losing weight and her journey to self-acceptance. I think something to remember here is that if we're not careful, any of us can tread into unhealthy territory with weight and health. It's easy to start with good intentions. For example, going to an exercise class and eating kale is not a bad thing…but it's what happens when these 'good things' become obsessions that end up overtaking our lives.
Knowing When to Move into a New Life Season: Change is hard. Period. However, there are certain people, places, and things that won't stay with you your entire life, and that's ok…and normal. It takes a really self-aware person to know when to transition out of certain friendships or to transition into new jobs or life stages.
It's Not Too Late: If something isn't feeling right in your life, it's ok to make a change…regardless of how big or small.
Overall Thoughts: I couldn't put it down. I would definitely recommend it.