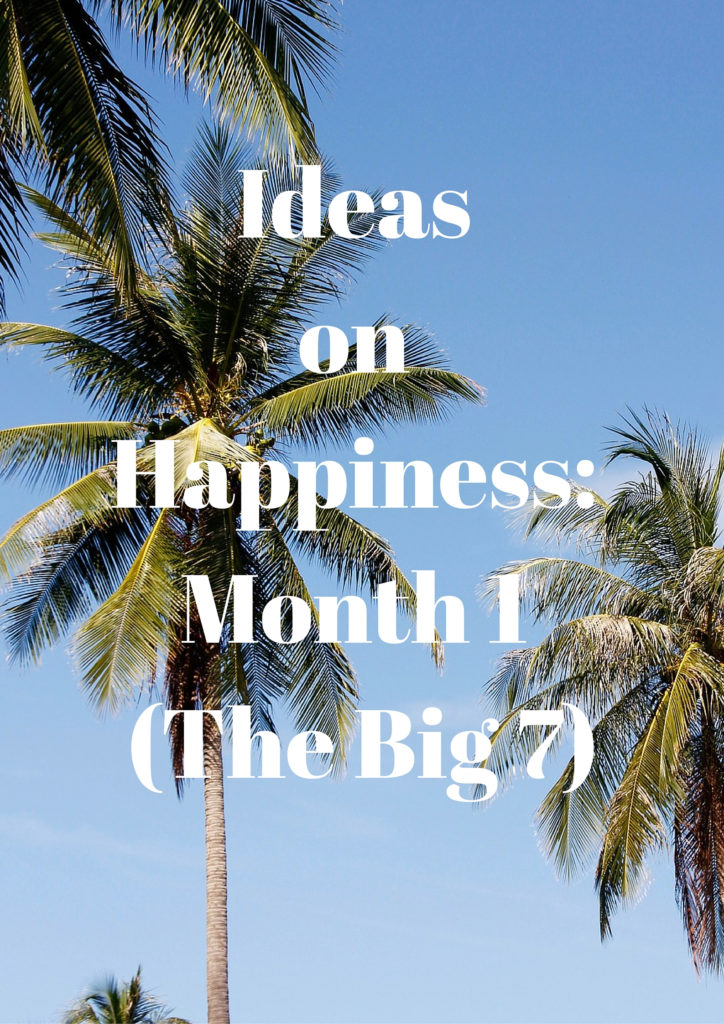 Ideas on Happiness: Month 1
What can I say…I love learning about happiness and positive psychology. I think that it's interesting because we often push aside or neglect the things that really do make us the most happy and instead put the majority of our time and energy towards activities that often don't matter as much as we think they do.
Because I do so much reading on the topic of positive psychology & happiness I decided to start a series relating some of the ideas and helpful tips that I am learning along the way. As of now, I think that I'll be posting updates to the series either once a month or every other month.
A few months ago I read the book 'The Happiness Equation' by Neil Pasricha and I have to say that Neil knows what he's teaching because I felt happier just reading the book. In fact, I enjoyed it so much that I only allowed myself to read a chapter day in order to savor it as much as I could.
The Big 7
In the book, Neil lists what he refers to as the 'big 7' and these are 7 simple ways to increase our overall happiness. The list includes:
Three walks (3 30 minute walks per week)
The 20 minute replay (writing for 20 minutes about a positive experience)
Random acts of kindness (5 per week)
A complete unplug
Hit flow
2 Minute meditation
Five Gratitude's
It appears to be shockingly easy doesn't it? In fact, when I read this I was surprised to find that I already did 3 out of the 7.
This past week has been especially trying and difficult from power outages, multiple technology issues (which is a problem when you work on the internet), tropical storms, migraines, crazy smokers, the DMV, and ongoing AC probs…to name a few.
Anyways, because it's been a less than ideal week, I know it's especially important to be consistent with as many of my 'big 7' as I can manage.
What about you? Are any of the Big 7 things that you already do? If not, which one or ones would you like to try out?
If you're not sure where to begin, I would suggest starting with gratitude. During my 'horrible' week I watched the movie 'Suffragette.' First, if you haven't seen this movie you should go and watch it and second, my sour mood improved and my perspective was quickly altered. In fact, I might even end up writing a blog post about this in the future.
What are 3-5 things (small or large) that you are grateful for today?
P.S. Now that I'm all caught up on my library books…I'm on the hunt for a new book. I'm ready to find another happiness related book and here's the list that I've narrowed it down to. Now I just have to pick one. Let me know if you've read any of these or if you have any other good recommendations?
Flourish: Martin Seligman, Authentic Happiness: Martin Seligman, The How of Happiness: Sonja Lyubomirsky, The Myths of Happiness: Sonja Lyubomirsky, Stumbling On Happiness: Daniel Gilbert, Happier: Tal Ben Shahar
If you enjoyed this post you might also enjoy…
Don't Believe Everything You Think